Eggless Tutti Frutti Muffin Recipe
Eggless Muffin Recipe. Eggless muffins are very easy basic muffins. Homemade muffins are healthy and delicious. Cake and muffins are both bakery products. The difference between cakes and muffins is that a muffin is a small piece of bread and cake, which is much sweeter. The cake is the favorite dessert choice, while muffins are served for breakfast.
easy eggless Muffins
Ingredients of Eggless Tutti Frutti Muffins
1 and ½ cups of all-purpose flour
3 teaspoons of baking powder
½ teaspoon of salt
1 cup of sugar
3/4 cup of milk
¼ cup vegetable oil
1 tbsp vinegar/lemon juice
1 tsp baking powder
½ tsp baking soda
1 pinch of salt
1 tbsp cornmeal
¼ tsp vanilla essence
¾ cup of refined oil or butter
¼ cup tutti frutti
Direction of Eggless Tutti Frutti Muffins
1 Take warm milk, add vinegar, and set aside for 5 minutes.
2 Take another bowl and sift all the flour, baking soda, baking powder, baking soda, cornstarch, and salt.
3 In warm milk, add oil, vanilla essence, and sifted sugar and beat wet ingredients.
4 Preheat the oven to 150 degrees. Grease a 12-cup muffin tin or line the cups with paper liners.
5 Mix mat ingredients and dry ingredients together in a large bowl.
6 Add Tutti frutti
7 Mix quickly and lightly warns until just moistened.
8 The batter will not clump.

9 Spoon the batter into the prepared muffin tins, filling each 3/4 full.
10 Bake in the preheated oven for about 35 minutes at 180 degree
Eggless Tutti Frutti Muffins are ready .
Read more : Strawberry cake
F A Q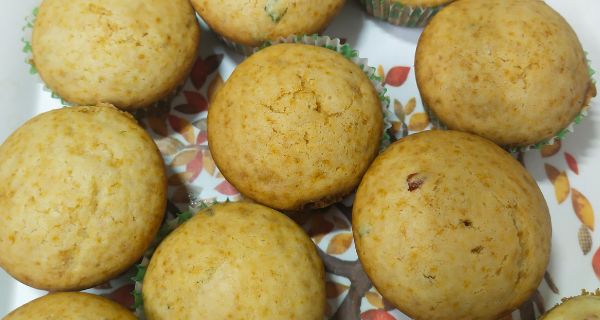 Video about Eggless Tutti Frutti Muffins