The cake is a dessert that is eaten in every occasion like birthdays, marriage, and any celebration Eggless Chocolate strawberry cake is a dessert that perfectly combines the rich flavor of chocolate with the sweet, fruity taste of strawberries. Eggless chocolate strawberry cake is the easiest cake. A very simple way is used to prepare the ganache and fresh strawberries are used for filling and icing. Super soft, moist, and rich in chocolate. Lots of chocolate and strawberries make it super tasty.
I love this eggless chocolate strawberry cake because the cake is full of chocolaty.i made this cake from scratch. Eggless chocolate strawberry cake is perfectly sweet for celebrating any occasion.This cake is typically made by baking layers of chocolate cake and then filling and frosting them with a strawberry-flavored filling.

The filling can be made by mixing fresh or frozen strawberries with cream whipped cream, or frosting, and sometimes also includes a layer of strawberry jam or puree.
Some variations of the cake may also feature chocolate-covered strawberries as a decorative garnish or as part of the filling

Chocolate strawberry cake can be in a variety of sizes and shapes, including round, square, or rectangular, and can be served as a full-size cake or as individual slices.
This dessert is a popular choice for special occasions such as weddings, birthdays, and Valentine's Day, as it is both elegant and delicious.

Chocolate strawberry cake is also a great way to use up loved strawberries and can be a fun and easy recipe to make at home with family or friends.
When making this cake, it is important to use high-quality chocolate and fresh, ripe strawberries for the best flavor.
Some cake variations may also incorporate other flavors, such as vanilla or almond, to add depth and complexity to the taste.

Overall, the chocolate strawberry cake is a mouth-watering dessert that is sure to please anyone with a sweet tooth and a love of chocolate and strawberries. This ts the perfect eggless chocolate recipe -the combination of chocolate ganache, sweet fresh pink strawberries, and cream .All together come with a chocolaty flavor.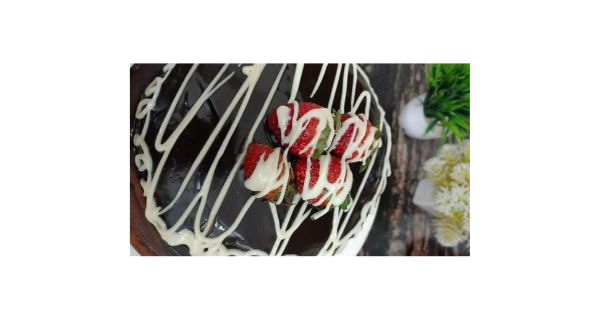 Notes
Tin Size 6"
Oven Temprature 180 C -40 minutes
Cooling time 1hr
Recipe of Eggless chocolate strawberry cake
Flour 100gm
Sugar powder 90 gm
CocoPowder 20 gm
Baking Soda 1/2 tsp
Baking Powder 1/4tsp
Salt 1pinch
Milk 40 ml
Milk 120 ml
Strawberries 250 gm
Whipped cream 150 ml
Dark chocolate 150 gm
Fresh cream 120 gm
Process of Strawberry filling
chopped strawberry and mix 2 tsp powdered sugar.
Dark chocolate ganache
Take 150 dark chocolate and 120 fresh creams and keep in a double boiler and mix gently .and keep in freeze after room temperature.
For icing cake
Take out whipped cream from freezer and keep it for room temperature till become smooth .
Whipp the whipped cream with a whisker till a stiff peak.
Process
1 First of all preheat oven at 180 C. Line cake tin with butter paper .
2 Add wet ingredients oil, curd, and sugar powder.
3 sieve dry ingredients flour, cocoa powder, baking powder, salt, and baking soda in the same bowl and mix all .
4 Make the smooth batter and pour in a tin.
5 Bake in a preheated kadhai for 30 minutes.
6 Remove after 30 minutes and keep it on a wire rack till room temperature.
7After 1 hr remove the butter paper and cut it into 3 layers.
8 Apply sugar syrup and whipped cream after that apply a layer of strawberry.
9 Repeat the same process.
10 Apply cream all over the chttps://addapinch.com/the-best-chocolate-cake-recipe-ever/ake and decorate with strawberry and white ganache. apply some white ganache on the strawberries.
Your Eggless chocolate strawberry cake is ready for every celebration.
Read more https://bhojandeep.com/wp-admin/post.php?post=389863&action=edit
How do make Eggless chocolate strawberry cake?

Use chocolate and strawberry with lots of
Please follow and like us: