Best Pav Bhaji Recipe Super Tasty in 4 steps. Learn Pav bhaji How to Make Delicious Pav Bhaji in 4 Simple Steps. Pav bhaji originated in Mumbai. Pav bhaji is Famous street food that can be eaten for breakfast.
What is Pav Bhaji recipe ?
Pav bhaji is a street food. It is delicious and originated in Mumbai. Pav is a soft bread and bhaji is a mixed vegetable. The bhaji is made with vegetables like potatoes, tomatoes, peas, and capsicum. The vegetables are cooked with spices like cumin, coriander, and turmeric. The dish is usually spicy.
The pav bread is toasted with butter. It is usually served with some chopped onions and a wedge of lime. Pav bhaji is a favorite among people of all ages. It is often eaten as a snack or a quick lunch. Pav bhaji is also in north India. It can be made in large quantities and served to a large crowd. Pav bhaji is a versatile dish that can be made with different variations. we can add cheese or paneer to the bhaji for extra flavor.
Others a different types of vegetables like cauliflower or broccoli. There are even some variations where the pav is stuffed with bhaji. Pav bhaji is a vegetarian dish and is loved Pav bhaji is also a healthy meal option. It is packed with nutrients and fiber.
The dish is low in calories and fat. Pav bhaji is a popular dish in Indian restaurants around the world. It is easily found in Indian restaurants i. Pav bhaji is often seared with a side of crispy papadums. It is a filling meal that is perfect for a busy day. Pav bhaji is a delicious and satisfying meal that is enjoyed by people all over the world.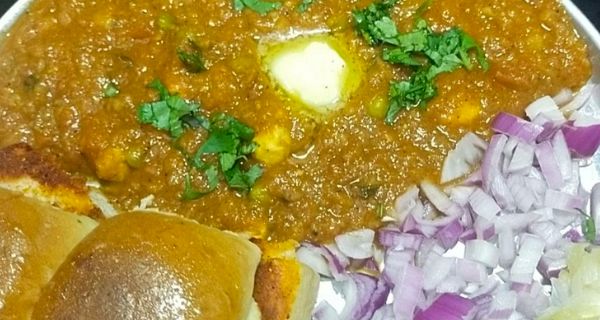 Best Pav Bhaji Recipe Super Tasty in 4 steps
Ingredients of Bhaji
Vegetables: Potatoes, cauliflower, carrot, capsicum, and green pea are used in bhaji. I use lots of vegetables. However, bhaji is prepared with more nutritious and homemade
Pav Bhaji Masala: Pav Bhaji Masala is one of the most important ingredients that is used in bhaji. So always use the best pav bhaji masala or prepare homemade pav bhaji masala.
Butter: you can use the best butter or homemade. Butter is used in toasting pav and for bhaji ..
Pav: Fluffy pav is easily available in the market or bakery shops. You can bake at home
4 potatoes
2 carrots
1 capsicum
1/2 cauliflower
2 chopped onions
3 tomatoes puree
4 tsp butter
1 tsp oil
1/2 cup green boiled peas
3 tsp pav bhaji masala
1/2 tsp turmeric powder
1/2 tsp coriander powder
r 1/2 tsp black pepper powder
1/2 tsp cumin powder
1/2 red chili powder
How to make Best Pav Bhaji Recipe Super Tasty in 4 steps
1 Add potatoes, cauliflower, carrots, capsicum,1/2 glass water, and salt to a pressure cooker.
2 Cook till 1 -2 whistle.
3 Mashed the cook vegetables.
4 In pan heat butter and oil.
5 Add chopped onions and saute till turn color.
6 Add tomato puree and cook till oil releases.
7 Make a paste of coriander powder, salt, turmeric, black pepper, cumin powder, and pav bhaji masala.
8 Add paste of masala and continue to stir.
9 Add mashed vegetables and peas.
10 keep stirring on a low flame.
11 Now add paneer.
12 Add chopped coriander leaves
13 Serve with lemon juice
14 On tava heat 1 tbsp butter and add pav bhaji masala powder.
Place the pav and toast on both side.
Tips for Best Pav Bhaji Recipe Super Tasty
some tips and variations for making pav bhaji:
Tips: Use a mix of vegetables: bhaji is traditionally made with a mix of potatoes, cauliflower, peas, carrots, and capsicum. You also add other vegetables like beans, and broccoli, or Use lots of vegetables according to your choice
Pav: In pav, bhaji pav is used that is a kind of bread. prefer soft and slightly sweet. If you don't have pav, you can use any soft dinner rolls. Always Use a good-quality butter
: Pav bhaji tastes come with real butter. You can use salted or unsalted butter for a milder flavor or salted butter for a savory taste.
Always Mash the vegetables well The vegetables should be well to create a smooth, thick perfect texture for the bhaji. Adjust the spice level: Adjust the spice according to your choice liking by adding more or less chili powder, cumin powder, pav bhaji masala, or garam masala.
FAQ

Q: What is Pav Bhaji?
A: Pav Bhaji is a popular street food dish in India, especially in Mumbai. It consists of a vegetable curry made with mashed vegetables like potatoes, tomatoes, peas, and onions, cooked with a blend of spices, and served with a soft buttered bread roll called Pav.
Q: What are the ingredients used to make Pav Bhaji?
A: The main ingredients used to make Pav Bhaji are potatoes, tomatoes, onions, peas, capsicum (bell peppers), and a blend of spices like cumin, coriander, turmeric, red chili powder, and garam masala. Butter and pav (bread rolls) are also essential ingredients.
Q: How is Pav Bhaji made?
A: To make Pav Bhaji, vegetables are boiled and mashed, and then cooked with a blend of spices, tomatoes, and onions until they form a thick curry. The curry is then served hot with buttered and toasted Pav.
Q: What are some variations of Pav Bhaji?
A: There are several variations of Pav Bhaji, including Cheese Pav Bhaji, Jain Pav Bhaji (without onions and garlic), Khada Pav Bhaji (chunky vegetable Bhaji), and Tawa Pulao Pav Bhaji (Bhaji served with Tawa Pulao).
Q: Is Pav Bhaji a healthy dish?
A: While Pav Bhaji is a delicious and filling dish, it is not considered a healthy option due to its high calorie and carbohydrate content. However, it can be made healthier by reducing the amount of butter and oil used in its preparation and increasing the vegetable content.
Q: Can Pav Bhaji be made without Pav?
A: Yes, Pav Bhaji can be served without Pav, and it is called Bhaji. It can be eaten with rice, chapati, or any other bread of your choice.
Read more : Recipe
Please follow and like us: