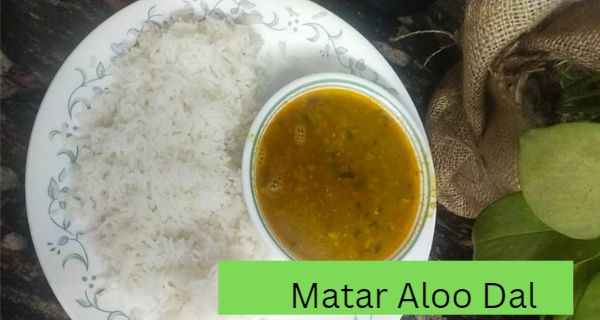 Matar Aloo Dal
Matar aloo dal recipe is Indian dish. Matar aaloo dal is a dish made from split peas (matar) that have been hulled and split. It is commonly found in Indian cuisine and is typically cooked with spices, such as turmeric, cumin, and ginger, and is often served with rice or roti.
,Matar aaloo ki sabzi Nhi matar aloo ki dal khae In the winter season.
peas are available in the market. once try matar dal with fres aloo and Matar I
Ingredients
4 Potatoes
1/2kg Peas
Salt according to taste
oil
1 pinch Hing
1/2 tsp cumin seeds
1 tbsp Ginger garlic crushed
2 chopped Tomatoes
1 green Chilly
1/2 tsp coriander powder
1/2 tsp black pepper powder
1/2 tsp cumin powder
1/2 garam masala
1/2 chilly powder
1/2 turmeric powder
Process
Matar aaloo dal is very easy recipe . if you want to eat light .Matar aaloo dai and Rice is best.
Take a pressure cooker and put potatoes, peas, salt, and 2 glasses of water.
After 1 whistle keeps in low flame, hold 10 minutes and turn off the flame
. Mash the potatoes and peas with a masher
Take a pan add oil, green chilly, ginger garlic,2 tomatoes, and make a paste of cumin seeds, Ginger garlic, chopped Tomatoes, green Chilly and a paste of coriander powder, black pepper powder cumin powder, garam masala, chilly powder, turmeric powder.
Now add mashed potatoes, 1 glass of water and peas after 1 boil keep in low flame.
After 10 minutes serve with green coriander.
serve with chappati and rice.
Read More https://bhojandeep.com/wp-admin/post.php?post=389742&action=edit
Please follow and like us: